Personal Loans, Credit Cards and Lines of Credit
Great rates, a variety of options to choose from, and the convenience of online applications. DOCFCU can provide the funds you need – without the fees and hassles you don't.
An auto loan from DOCFCU can help you drive a hard bargain. Whether you are looking to purchase a new or used vehicle, or refinance your existing auto loan to save money, our low rates and value-added services can make a big difference.
Up to 105% on new and used financing
Quick approvals (Within 24 hours or less)
Rate matching available to qualified members
Relationship rewards discounts (cannot be combined with match rate)
Free Autocheck for used vehicles with loan application
| | | |
| --- | --- | --- |
| | | |
| | | |
| 72 Months – 100% financing* ($20,000 min.) | | |
| 84 Months – 100% financing ($40,000 new only) | | |
| 96 Months (New only) – 100% financing ($60,000 min.) | | |
Use our calculators to help you estimate your monthly payments.
There's more to a smart deal than a good price. That's why we offer a variety of additional programs and tools to help you both purchase wisely and protect your investment.
GAP Insurance to Protect Your Loan
Guaranteed Asset Protection (GAP) insurance helps ease your financial burden by paying the potentially high-cost difference between your insurance settlement and your loan balance on items directly related to the purchase of your vehicle.
90-day free look – you may cancel your protection within 90 days of your enrollment date and receive a full refund and no cancellation fee.
Skipped payments – protection includes skip-a-payment or delinquent-payment features for the life of the financial agreement.
Available on loans – protects new and used vehicles.
Primary vehicle insurance deductible – pays up to $1,000 of your vehicle insurance deductible.*
Protect yourself from unexpected, high-cost repairs, not to mention, increase the resale value, if you choose to sell your vehicle.
Most major car repairs occur after the factory warranty period ends. Without a Vehicle Service Agreement (VSA) — you may wind up paying for unexpected and expensive repairs. As a result, extended coverage for auto repairs has become a necessity. Department of Commerce Federal Credit Union has teamed up with Intercontinental Warranty Services to provide you with a more affordable means of protection for your new or eligible pre-owned vehicle.
Check with your loan officer about your options and learn how you could save up to 50% off dealer pricing. You may be eligible for coverage even if you don't currently have an auto loan with Department of Commerce Federal Credit Union.
Here are some of the many benefits:
Low Deductible
Nationwide protection for new and eligible pre-owned cars, 9 years old and newer, with up to 125,000 miles on the odometer
Transferable Warranty
Towing up to $100 (max per claim)
Car Rental up to $500 ($50/day up to 10 days)
Trip Interruption Expenses up to $300 ($100 a day up to 3 days)
Travel Expenses up to $225
Increased Vehicle Resale Value
60-day cancellation option with 100% refund
Roadside Assistance up to $80 (per incident**)
Flat tire
Fluid delivery
Jumpstart
Lock-out protection
Plus, the following new options are now available
Accidental Loss Refund* (optional coverage to protect against total loss due to collision or acts of nature only)
KeyGuard* (optional coverage for key/transponder replacement)
Powersports Warranty Option for motorcycles, All Terrain Vehicles (ATVs), personal watercraft and snowmobiles.
Get a free, no-obligation quote online, or speak with any of our loan officers at 202.808.3600 to learn more.
A personal loan from DOCFCU can be used for any reason – and with our competitive rates and fixed monthly payments, it can be a smart way to save while you borrow the money that you need.
Borrow from $500 – $50,000
Flexible terms up to 72 months
Easy online application with results within 24 hours
No annual fees or pre-payment penalties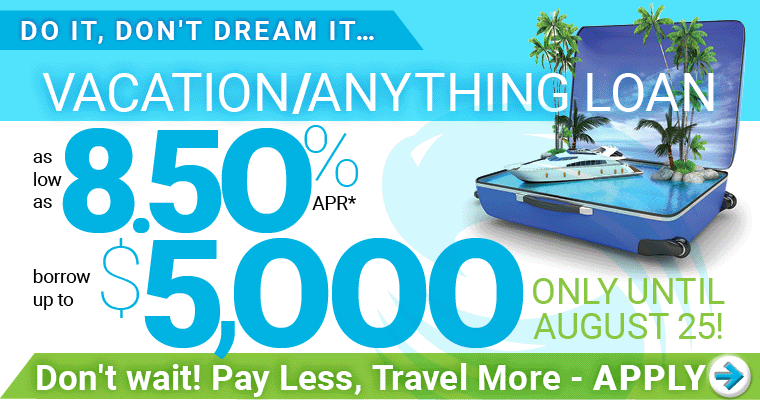 *APR = Annual Percentage Rate, as low as 8.50%, up to 11.50% Personal Loan special, 6/5/23 –  8/25/23 ONLY. Rate based on your credit worthiness. Borrow $500 – $5,000 with 6 – 24 month terms. Other rates and terms available. Other restrictions apply, for details, contact us or go online. No other discounts apply.
Borrow what you need, when you need it, without having to reapply. Get convenient access to funds when accidents and emergencies happen. You never know when you might need a little extra money.
Immediate access to funds
Line of credit amounts from $250 – $50,000
No annual fee
Can be linked to your checking account for overdraft protection
| | |
| --- | --- |
| | |
| | |
| | |
| | |
| | |
| | |
| Line-of-Credit (LOC – includes overdrafts) | |
JUST SAY "NO" TO FEES! With competitive rates and no annual fees – or fees for balance transfers or cash advances – a DOCFCU credit card can help you save while you spend.
No annual fee
No balance transfer fees – consider consolidating other credit card debit into one low rate
No cash advance fee
Low fixed interest rate
EMV CHIP ENABLED for security
| | |
| --- | --- |
| VISA Credit Card – Classic | |
| | |
| VISA Credit Card – Platinum | |
Applying is easy. Click here or call 202.808.3600. Based on your credit rating, we'll issue you a Classic, Gold or Platinum DOCFCU credit card.
*APR – Annual Percentage Rate
We can offer you relief during tough times, with our Emergency Loan.
We understand that unexpected things happen.  If you have been affected by an unplanned emergency/disaster, such as hurricane, flood, fire, furlough or eviction, we can help.
Get a low 11.99% APR*
Borrow amounts up to $5,000
No payments for first 60 days**
Terms up to 24 months and no repayment penalties
Must be a member for at least 6 months
Payday Alternative Loan (PAL)
We're here to help when emergencies happen, and you need cash right away. A Payday Alternative Loan can help you avoid traditional high-cost short-term payday loans.
$200 – $2,000 loan amounts
Up to 6 months to repay a loan amount up to $1,000 or less
Up to 12 months to repay a loan amount between $1,000 – $2,000
Fixed interest rate of 28%
Must have direct deposit coming to the account for at least 30 days
Must be a member for at least 90 days
Member can only have 3 PALs in a 12-month period
Limit of one PAL per member outstanding at a time
$20 application fee