Making Sourdough Bread
JUNE Evan's Corner
It's so much like personal finances
A few simple steps to get on track
See the results in your savings efforts

If you can DRIVE it...
Car, Truck, SUV, MOTORCYCLES
We can help you BUY/REFI*
Lower Interest Rates
Lower Monthly Payments

Do it, Don't dream it...
Vacation / Anything Loan
as low as 8.50% APR*
up to $5,000 for anything
ONLY until August 25

DOCFCU is your KEY to
HOMEOWNERSHIP
Mortgages Nationwide
Ready to Buy a home or refinance your current?
Competitive low rates
Whether you're saving or spending, we'll help you do it wisely.
The products and services that can help you live well, below your means.
Earn a guaranteed rate of return on your savings with DOCFCU certificates of deposit. With terms that range from 6 months to 5 years, and minimum deposits as low as $500, you can choose what fits best for your needs and budget. Click here to learn more.
What our members have to say:
Hi, I'm sending this message to thank Jasmine for ALL of her help during the entire process of opening my 2 cd's. Without Jasmine, I would not have been able to do. Jasmine walked me through the entire process from start to finish and I am grateful for all of the help! And I also understand how extremely busy everyone is buy Jasmine was always there to email me or call me to always provide assistance and facilitate the finalization of these 2 cd's and to provide all the final documentation to me as well. Thank you very much!
My Christmastime was spent vacationing and visiting family in Puerto Rico. If not for Tricia, our holiday fun may have ended sooner than expected. On Monday December 27th, I was unable to access funds from any ATM. Despite phone calls for assistance and the best efforts of the customer service reps, the issue could not be identified or resolved. They suggested I call the branch customer service when they reopened. I was disheartened, I didn't understand why there wasn't a simple solution, and since it was surprisingly hard to access my funds, I considered closing my account upon return. When I called Tuesday, unlike other recent attempts to reach the branch, I got through to live representative promptly. Tricia was friendly, professional, and understanding. She quickly assessed the situation after asking a few questions. Her decision to remotely reactivate my ATM card and allow me to reset the password was right and she came to that conclusion several minutes faster than the previous calls. I reset my password via the phone number she confirmed, then visited an ATM later in the day without a problem. Tricia was our vacation hero! Without her Santa talents, the rest of our time there would not have been very magical. My husband and I are grateful that she was the rep to pick up my call Tuesday. You and the Department of Commerce Federal Credit Union are fortunate to have her and her skillset working hard for me and other customers. I have had consistent good service from the people of this credit union. But, living in Virginia and this latest difficulty discourage me from remaining a member. After her outstanding service, I may not close this account after all. Thank you taking time to allow me to share a wonderful example of Tricia handling a challenging experience with ease and turning my frown upside down.
We would like to thank you for opening our accounts in such an efficient manner. We would also like to give Tyrome a genuine compliment. In all of the years we have done business with a bank or credit union we have never come across an employee with such impressive people skills and great knowledge and understanding of their job. Best wishes!
I just wanted to take time to tell you that Turneisha has been providing me with excellent service. I am an investor getting close to retirement and I hunt down the best bonds/CDs around the country. So as you can imagine I have dealt with numerous credit unions. Turneisha by far has been the most helpful yet so far. I just wanted to let you know about her quality of work.
I recently had the pleasure of receiving assistance from Anisha Dawson. My mom recently passed away and was a member of the credit union for many years. I am the executor of her estate. Anisha has shown great compassion and is guiding me through the process with patience and professionalism. Thank you!
I've worked with Ms. Wheeler several times to open CDs. She is highly professional and efficient. It has been a pleasure working with her. She has been my personal "DOCFCU Employee of the Month" for several months running.
"LaPriece and I wish to express our heartfelt appreciation to Samantha White and Department of Commerce Federal Credit Union for providing assistance and relief to those impacted by Hurricane Ian. We live in Punta Gorda, which borders Fort Myers, and were in the direct path of Hurricane Ian when it made landfall. We are still without power, have to boil our water, and have spotty cellular service. Every day feels like we are picking up pieces of our lives. So thank you for helping during this difficult period of recovery and unplanned expenses."
Today I had the pleasure of having Ms. Tricia Campbell assist me with a long term problem with my online banking. She was VERY patient and VERY thorough. And POLITE !! I am Grateful . Sooo many people these days are not kind in doing their job. They do it as if it were an imposition. She is a jewel!! Again, I am Grateful. Just had to let you know.
Greetings from England from one of your oldest members. I'm writing to call attention to the excellent service I have had from your colleague Julius Pickett in the last couple of months. Because of arbitrary policy changes in my British bank I've had to find new ways of getting my monthly dollar pension check converted into British Pounds Sterling. For the last two months I've found myself in the capable hands of Julius Pickett. Evan, this young man is a natural and he's going places. I hope you can keep him in the FCU. He is efficient and personable, without ever being bored or indifferent. Please give him a tug on the forelock. All the best!
"Greetings from Paris! Something awful happened to me today. I'm overseas now and I realized that someone stole money from my bank account. I immediately called the Customer Service and Mr. Pharaoh Kelley sent my call to the Fraud center. I explained to them the situation but I didn't want to block my card since I didn't know what happened exactly. I called back the customer service and it was Mr. Kelley again. I told him that I wasn't satisfied with the Fraud Center and I wanted to have a refund for the transactions that I didn't make. Mr. Kelley, immediately, decided to walk me through the process with a detailed explanation. He sent me a form via my email and I was able to fill the form. What I truly appreciated was that Mr. Kelley called me and then followed up with an email. I felt relieved and he told me that someone will reach out to me in the next 24 hours."
"My experience with DOCFCU has been amazing these first two weeks. I am a NFCU member. And a Wells Fargo customer since the days the were Wachovia. I just can't tell you enough how impressed I am by everyone at DOCFCU."
"Once again, may I thank you for all your help, support, and understanding dealing with my daughter's auto loan, especially since the deal was complicated…People like you is one of the reasons I have been and continue to be pleased to be a DOCFCU member. I became a member in 1970 and that's give or take 52 years"
"My wife and I discovered that someone had stolen a check that we mailed to a doctor's office and altered the payee and amount to $20,000. Needless to say, this was a very stressful event for us as we were concerned about our money and the security of our accounts. Shirl immediately lessened the worry and stress for us with her calm demeanor and confident handling of the situation. As we were concerned about the security of our account, she quickly moved our money into a new account and started the process of reversing the fraudulent transaction. We left the credit union with the weight of all that stress and worry we had when we came in that morning lifted off of us. Caring and professional people like Shirl are the reason why we have banked with the DOCFCU for over 25 years. We look forward to banking with the DOCFCU for another 25 years!"
"I would like to thank you so much for having Tricia assist in setting up my new 60 month certificate. She was very professional, courteous and prompt in getting everything completed."
"Chandler was so helpful to me when I needed to wire funds from my share savings as earnest money and as closing costs for my new condo in early and late-July this year. Her service to me (a stranger!) was exemplary. I highly commend her, and I know she is a valuable asset to the Department of Commerce Federal Credit Union."
"My wife and I recently relocated to Arlington for work and we were very excited to purchase a home in the area. We found out very quickly how competitive the real estate market is here, but we did find a house and we're thrilled when the offer was accepted. In the end, we were able to save thousands in the process. Your team at DOCFCU, specifically, Edmund, Octavia and Tomika, made all the difference for us to realize our dream of owning a home in our new city, and should certainly be recognized for their selflessness and going above and beyond for two new members. We are eternally grateful to them and will be members for life as a result."
"Excellent customer service during my car loan experience. Briana provided me with prompt call back within 30 minutes of me contacting her regarding a question about my loan and car buying experience. I totaled my previous vehicle and I was really dealing with a lot but she made the whole ordeal one for the records. I heard about your establishment by another colleague of mine because I was raving about Navy Federal and she said have you heard about DOCFCU. I contemplated over it and decided to take a go of it and I'm glad I did. Because Briana made me feel like I was the only customer with her prompt responses."
"I have the best relationship with my credit union! I mean really, who can say that of a financial institute?! Over the years, DOCFCU staff and service representatives have all seen me through establishing credit, preparing for first time homeownership, selling my home and family crisis after crisis-through good times and difficult seasons. I'm always met with patience, professionalism, and kindness-every time. Every time. From the customer service staff who answer the calls, to the staff in the physical buildings, to the online service and staff, to the loan (hello Tamica) and mortgage staff (hello Cecelia!), every step of the way it's been the standard of excellence that is modeled. I truly appreciate being a member and just really wanted to express my gratitude and appreciation. I often end my calls with "Love my Credit Union". It's the best way I can think of to express my sincere gratitude."
"I have been a DOCFCU member for several years. This year I took advantage of your very reasonable auto loan offer of 5 year 1.89%. The dealer where I bought the auto screwed up in arranging for my registration and titling in Maryland. Orise handled the loan and showed special cocern and patience in finalizing the loan. I don't believe such special personalization would have ever occurred at a bank. Orise is a special and wonderful asset to DOCFCU and all of its members."
"I have been a member for many years and recently refinanced my mortgage with DOCFCU. There were two ladies in the mortgage division that helped me tremendously and kept me up to date every step of the way. There were some frustrating issues along the way (which was expected) and I had some technical difficulties, on my end, in submitting some of the required paperwork. Cecilia took the time to go above and beyond to assist me with those issues. Both ladies (Cecilia and Cindy) are great assets to your organization. Their patience and customer service are stellar, and I would not hesitate to use DOCFCU for my future financial needs."
"I would like to complement Octavia. I recently refinanced into a new loan and since I had two different loans - a mortgage and a HELOC - with DOCFCU it was a bit tricky working out the logistics with the new lender at times. Octavia was always prompt, knowledgeable, and clear in response, while staying professional and courteous throughout the sometimes trying process. I thoroughly enjoyed working with her. I look forward to future additional business with DOCFCU and remain a happy member."
"I called DOCFCU trying to get information on a loan. As soon as Denzel answered the phone, I knew he would listen without rushing me off the phone. He had a willingness to help. I explained the nature of my call. Denzel said he would research and get back with me. It took less than an hour for him to have an answer. He had the exact document we so desperately needed. My husband and I are so grateful for him!! He's professional, very knowledgeable and kind."
"Outstanding customer service by DOCFCU team member! I was in the process of purchasing a new car and was given invaluable information by Jasmine, Member Service Rep, on what would be required from me. She was very patient and professional. She gave me her direct information in case I had additional questions. DOCFCU is very lucky to have Jasmine on their team."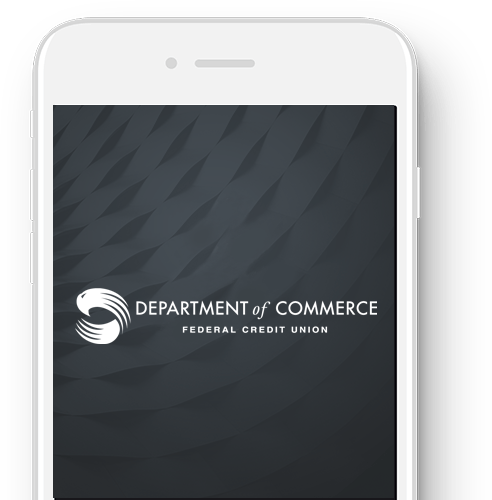 Get the DOCFCU Mobile App Now
Manage all your DOCFCU accounts in one convenient place – and from wherever you can access the Internet. Take advantage of time and money-saving services like Bill Pay, Remote Deposit, E-Statements, TurboTax®, Money Management powered by Quicken® and more.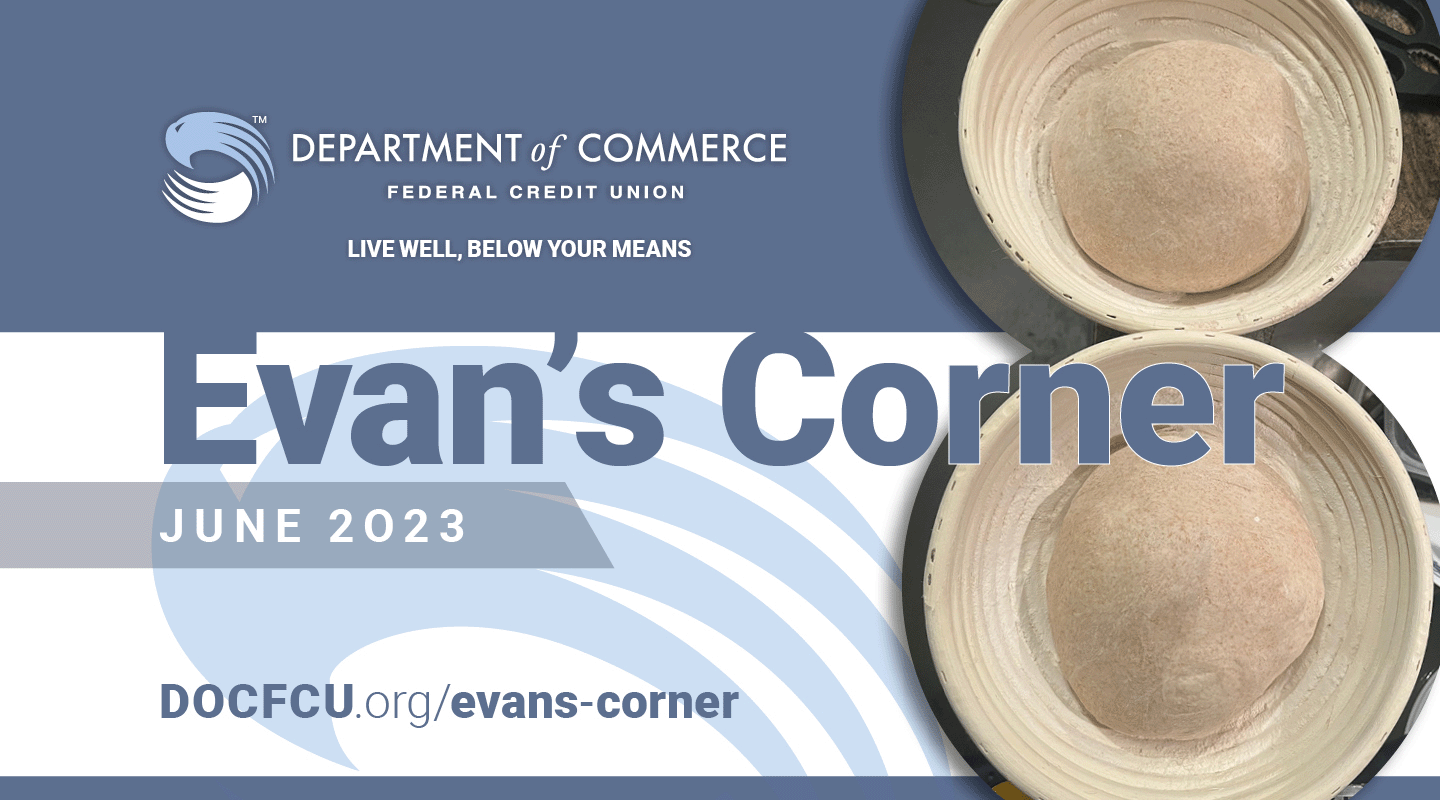 EVAN'S CORNER June 2023 Live Well Below your means Hi Everyone, I have been making sourdough bread for years and years.  Long before it…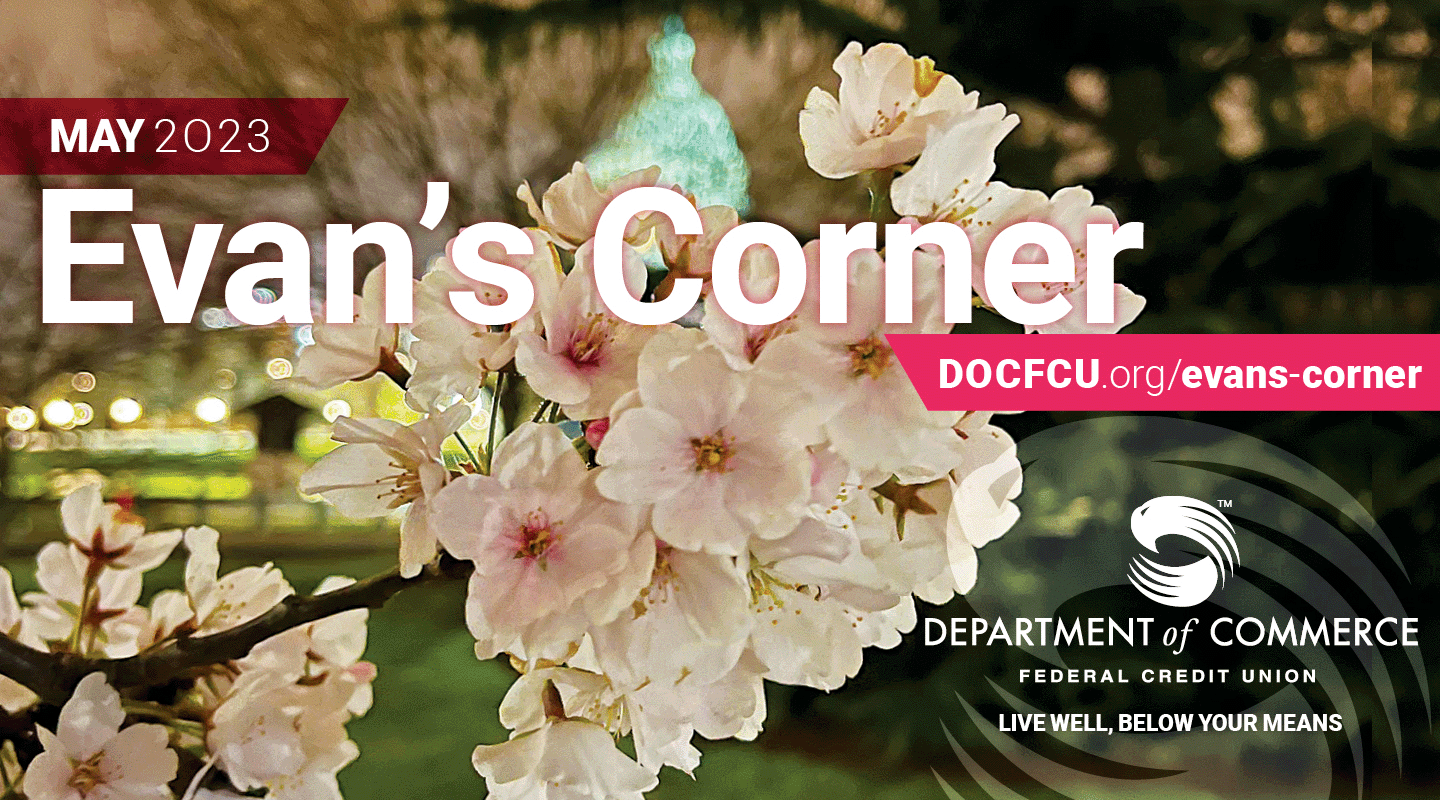 EVAN'S CORNER May 2023 Live Well Below your means I've been in Washington, DC 25 years now.  And nearly every year I walk the…
Subscribe to our newsletter and get exclusive deals you won't find anywhere else straight to your inbox!