Important information regarding COVID-19 and DOCFCU:
HCHB & Silver Spring Branches are open Monday – Friday 8:30 AM – 3:30 PM –
Effective August 30, 2021

all Visitors must complete a Vaccine Attestation form for entry in Commerce faculties. Forms are available at the guards desks.

IF VACCINATED: Complete a Vaccine Attestation form and show the guard at entry. 
IF NOT VACCINATED or prefer not to state your vaccination status: Complete a Vaccine Attestation form and show the guard at entry.  In addition, you must have a negative COVID -19 test result (from within the last 3 days) and be prepared to show it. 

Keep all documentation (Negative COVID-19 test result and/or Vaccine Attestation Form) with you as you may be asked to provide documentation to other agency representatives. 
As you navigate these difficult times, we encourage you to take advantage of the credit union tools and resources – learn more.
Online Banking
Use Online Banking to monitor your DOCFCU accounts, transfer funds, schedule payments and more. Login to Online Banking here.
Deposit Checks Remotely with our Mobile App
Use the DOCFCU mobile app to deposit checks to your account using your smartphone.  For your convenience during these times, we've increased the daily deposit total limit to $5,000.  Download it from the Apple Store or Google Play stores.
24/7 Call Center
Please call 202.808.3600 or 888.626.9845 24-hours a day, 7 days a week.  We apologize for longer than usual wait times due to the recent increase in calls.  Our call center staff can also be reached at the following numbers:
Email Us
You can reach us via email at service@docfcu.org if you have questions about your accounts.  Please remember – never email account numbers or other sensitive information.
Mailing Addresses:
General Mailing Inquiries, Member Deposits and Loan Payments
Department of Commerce FCU
P.O. Box 14720
Washington, DC 20044
DOCFCU Credit Card Payments
Department of Commerce FCU
P.O. Box 14460
Washington, DC 20044
Consumer Loans
If you need assistance making payments to your consumer loans please contact us at loandepartment@docfcu.org. Please remember – never email account numbers or other sensitive information.
DOCFCU Mortgage Payment Assistance Center
We are ready to help our mortgage borrowers as well if you are having difficulties making your mortgage payment. For eligible mortgage borrowers, we have a range of hardship programs to help you with your payments. Please contact us at 1.877.636.9780 or use our online Loan Solution Center.
To enroll using the online Loan Solution Center, you'll need the following information:
Loan number – Your mortgage loan number can be found on your mortgage monthly statements on the upper right-hand corner below your property address. To access your monthly statements online please follow the steps below:
Log in to home banking at docfcu.org.
Select your mortgage loan from your various accounts.
On the next screen that comes up select the E-Statement Tab.
Use the dropdown and select E-statements from the dropdown box
Select any of your statements.  Your loan account number will be in the upper right-hand corner below the property address.
Property address
Proof of income
Current bank statement
Itemized expenses
Most recent W-2
If you are self-employed, we will need your most recent tax return and a copy of your Profit and Loss Statement
A summary of your current or anticipated circumstances warranting the need for assistance
Select "Don't have an account? Register 
here
" option, see image below for reference to begin the application process.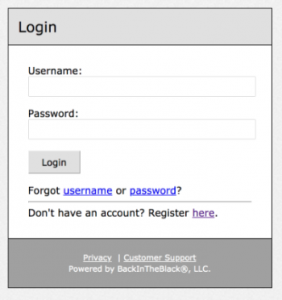 Emergency Loans
Short-term emergency loans can help provide much needed funds when you need them.  You won't pay any interest on a DOCFCU emergency loan for 90 days.  And, if you pay the loan in full before the end of 90 days, all interest will be waived.  You can apply here.
CDs with No Early Withdrawal Fees ends March 1, 2021
Should you need to cash in your DOCFCU certificate of deposit early during the COVID-19 pandemic, we will waive early withdrawal penalties.  No early withdrawal penalties will end on March 1, 2021. Please note that if you subsequently want to reinvest your money in a new CD you will earn the market rate at the time that you reinvest the money.  You cannot do a partial withdrawal from a CD.  Traditional IRA CDs are subject to IRS early withdrawal penalties.  To learn more, please call 202.808.3600 or 888.626.9845 or email service@docfcu.org.
Free ATMs and Shared Branches
You can use any ATM in our network for surcharge-free cash withdrawals.  When using a Shared Branch, we recommend you reach out before you visit in person as many Shared Branches have adjusted their normal business hours.  You can locate ATMs and shared branches here.
Answers to Frequently Asked Questions
Third Stimulus Payments - What Do Our Members Need To Know?
Here are some things we recommend doing to track your second round of stimulus money:
Stay informed:

 Visit the IRS website for the latest news and eligibility requirements. Track your payment by visiting the IRS Get My Payment webpage. 

Set Up Account Alerts:

  We suggest setting up account alerts on our mobile app or online banking so you're notified of large deposits to your account.
Don't get scammed: Below are some tips provided by the Federal Trade Commission. 

The government won't ask you to pay anything up front to get this money. Anyone who does is a scammer.
The government won't call, text, email, or contact you on social media to ask for your Social Security, bank account, or credit card number. Anyone who does is a scammer.
There's no such thing as getting your money early, or faster. Anyone who says they can hook you up now (or soon) is both lying and a scammer.
Economic Impact Payments - What Should Our Members Do With Them?
Here are six things we recommend thinking about when using the stimulus money:
Prioritize:

  Focus on the bills that keep a roof over your head, the lights on and food on the table.  Check with your local jurisdiction as many utilities and communications providers are working with consumers to waive fees, keep the power on and your internet connection working.

Talk:

  With your credit union and other lenders.  Many are offering low or 0% small dollar loans, skip-a-pay, loan modifications and other sources to help so you can use your payment for what you need now.

Save some of it:

  If you set aside even $100-200, that can provide a cusion for bills that are coming in a couple of weeks.  America Saves has solid resources and information to help with access to food and unemployment benefits.

Don't hoard cash: 

 Keep it in your credit union.  It's safest there.

Protect:

  There are lots of bad guys out there trying to use this crisis to get at your stimulus check and your money.  Watch our for suspicious emails, texts or phone calls.  Here's a great article that can help you keep an eye out for these threats. 
Pay your taxes:  The deadline for filing and paying income taxes has been extended to July 15th.  If you haven't saved to pay your income taxes, you may want to consider using the economic impact payment to pay your taxes. 
Frequently Asked Questions About Economic Impact Payments
According to the IRS, no action is needed.  Relief payments will be based on filed 2019 tax returns or 2018 returns for those who have not filed yet.  The Treasury and IRS announced that Social Security beneficiaries who are not typically required to file tax returns will not need to file an abbreviated tax return to receive an Economic Impact Payment.  Instead, payments will be automatically deposited into their bank accounts.  Please visit IRS.gov/coronavirus for the most up to date information.
In the coming weeks, Treasury plans to develop a web-based portal for individuals to provide their banking information to the IRS online so that individuals can receive payments immediately as opposed to checks in the mail.  Please visit IRS.gov/coronavirus for the current information.
Please stay safe and monitor the CDC and WHO websites for the latest information on this very serious pandemic.
Remember to do the following 5 THINGS to help stop the spread of COVID-19:
HANDS: Wash them often – as long as it takes to sing "Happy Birthday" to yourself twice.
ELBOW: If you have a cough, cough into it.
FACE: Don't touch it.
FEET: Stay at least 6 feet apart when around others.  Please take this seriously and practice social distancing as much as you possibly can.  If we all do this, the pandemic will end sooner.
FEEL: If you feel sick, stay home.
Avoiding COVID-19 Scams and Phishing Attempts
Scam emails will often claim to be from reliable authorities such as the CDC, HHS, WHO and others.  These scams are designed to entice recipients into opening emails containing malicious content, such as attachments or links to web content.  Opening these documents or links will likely result in compromise of device (computer, phone, tablet) with malicious code designed to steal personal and/or financial information.  Please know that DOCFCU personnel will never ask you for your personal confidential information such as a password, PIN number or account information.  Please be vigilant against coronavirus-related scams.
What You Should Be Looking Out For:
Scammers impersonating organizations such as the CDC, HHS, WHO and others, providing purported tips, safety measures, and/or updates on the outbreak.  These scammers are leveraging:
Emails
SMS (text) messages
Phone calls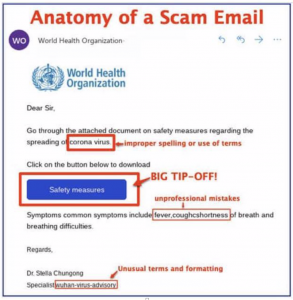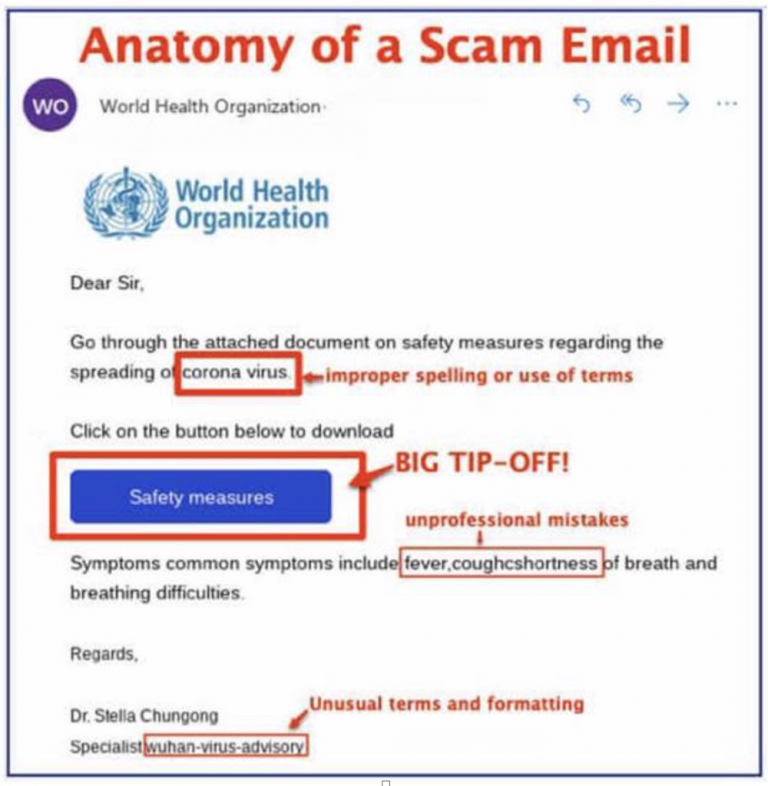 The FCC offers the following tips to help you protect yourself from scams, including coronavirus scams:
Do not respond to calls or texts from unknown numbers, or any others that appear suspicious.
Never share your personal or financial information via email, text messages or over the phone.
Be cautious if you're being pressured to share any information or make a payment immediately.
Scammers often spoof phone numbers to trick you into answering or responding.  Remember that government agencies will never call you to ask for personal information or money.
Do not click any links in a text message.  If a friend sends you a text with a suspicious link that seems out of character, call them to make sure they weren't hacked. 
Always check on a charity (for example, by calling or looking at it's actual website) before donating. (Learn more about charity scams.)
For more information about scam calls and texts, visit the FCC Consumer Help Center and the FCC Scam Glossary.  You can also file a complaint about such scams at fcc.gov/complaints.
Use our calculators to see just how much you need to save – and for how long – so you can better plan for a sound financial future.